Fully Certified, UK Legal Full Throttle Version Now Available. 
The additional price is £199.00 for a new bike or £249.00 for a bike that has been used. (Allow up to 4 weeks for certification and delivery). Please ask us for details 

[email protected]

. For further information about the Full Throttle Option, please click here.
The Wisper 905 Crossbar is a real thoroughbred. The Wisper 905 exudes style while providing greater rigidity to produce a responsive and lightweight riding experience. Wisper's 905 is available with a choice of battery sizes and power units, allowing you to tailor your eBike to your own personal requirements.
The Wisper 905 Crossbar is the perfect hybrid option promising riders hours of enjoyment both on the roads and gravel trails.
What's the difference in power delivery? Cadence Vs Torque Power Packs
Advantages of having a Torque Power Pack fitted to your Wisper electric bike
A more natural riding experience
Immediate power when the pedals are pushed
Quieter motor sound
Up to 30% more range
For your cycling needs and questions, please do not hesitate to contact us.
Technical Specification
Motor
Wisper High efficiency,
250W hi torque brushless motor
Lithium Battery
Medium range 375Wh MAX range 50 miles
Long range 575Wh MAX range 75 miles
Mega range 700W MAX range 100 miles
*By upgrading to our high efficiency Torque Power Pack range may be extended by up to 30%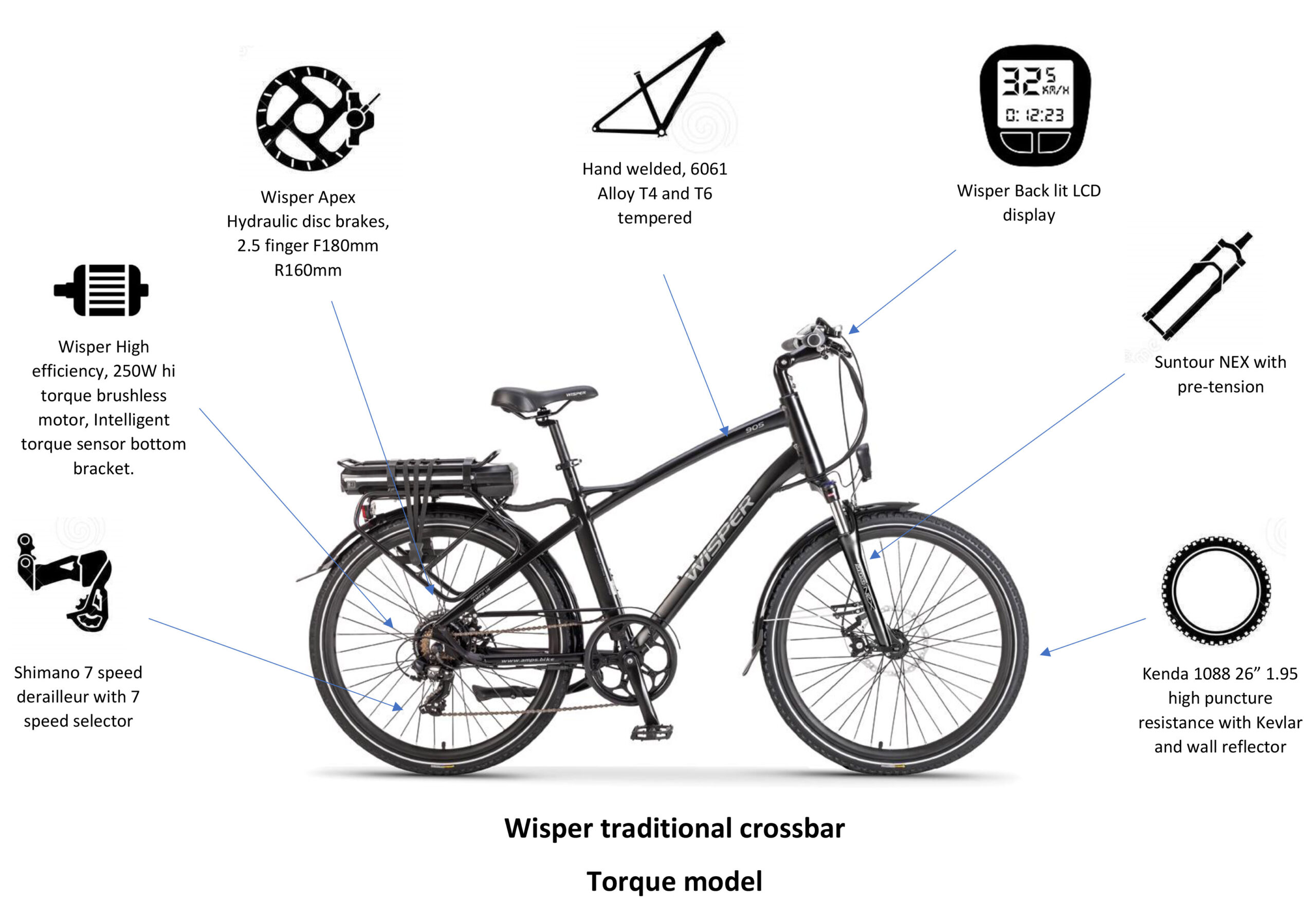 Full Throttle Range
Using your Wisper bike on throttle only will reduce your range by up to 65% and the TTP will not help increase range whilst you are using the throttle only. If your bike has been upgraded so it works on the throttle only, we still suggest pedalling when you are able to do so. Use the throttle only function when you need to rest or to help you pull away when setting off.
Controls
Wisper Back lit LCD display
Bicycle weight
375Wh: 23kg
575Wh: 24kg
700Wh: 24.5kg
Frame
Hand welded, 6061 Alloy T4 and T6 tempered
Frame size
18" 46.5cm
Color
Black
Forks
Suntour NEX with pre-tension
Saddle
Wisper comfort
Kick stand
Black anodised alloy
Gears
SHIMANO 7 speed derailleur with 7 speed selector
Brakes
Hydraulic 180mm disc brake front and 160mm rear,
Rims
Alloy double walled 26" x 1.5"
Tyres
Kenda 1088 26" 1.95 high puncture resistance with Kevlar and wall reflector
Tyre Upgrade
Schwalbe Marathon Plus Perf, SmartGuard, TwinSkin
26" x 2" Flat-Less – With a purposeful trekking tread. Everyday use or off road bicycle expeditions? This robust tyre handles almost any mistreatment. 5mm thick, protected by SmartGuard, the most effective puncture protection belt available.
Mudguards
Black full length shatterproof
Lighting
Front: 15W LED
Rear: 36V light, power from bike battery
Rear Rack
Wisper's unique rear battery rack, certified to 25kg
Max Weight Loading Including Luggage
19 Stone / 120kg
Riders over 6′ or 182cm tall, please ask for 400mm seat-post when ordering.
*Some features or components may differ from those displayed due to availability
*Finance subject to credit check