Fully Certified, UK Legal Full Throttle Version Now Available. The additional price is £200.00 for a new bike or £250.00 for a bike that has been used. (Allow up to 4 weeks for certification and delivery). Please ask us for details [email protected]. For further information about our Full Throttle Option, please click here.
Designed specifically for the shorter rider
Designed specifically for the shorter rider, the Wisper 705 24″ is our smaller framed Step-Through electric bike. Beautifully styled, the 705 features a very adaptable unisex design that provides a great all around riding experience for shorter riders without sacrificing any of the bike's superb handling characteristics. Representing excellent value for money the 705 Step-through Electric Bike is Wisper's go to bike and the perfect choice for shopping, commuting or long country rides.
You can customise your own Wisper 705 Step-Through ebike today by simply selecting from a range of battery, power unit and colour options.
Looking for a larger framed Step-Through electric bike? View the Wisper 705 26″
What's the difference in power delivery? Cadence Vs Torque Power Packs

Torque Power Pack Advantages
A more natural riding experience
Immediate power when the pedals are pushed
Quieter motor sound
Up to 15% more range
Technical Specification
Motor
Wisper High efficiency, 250W hi torque brushless motor
Lithium Battery
Medium range 375Wh MAX range 50 miles (80km)
Long range 575Wh MAX range 75 miles (120km)
Mega range 700W MAX range 90 miles (140km)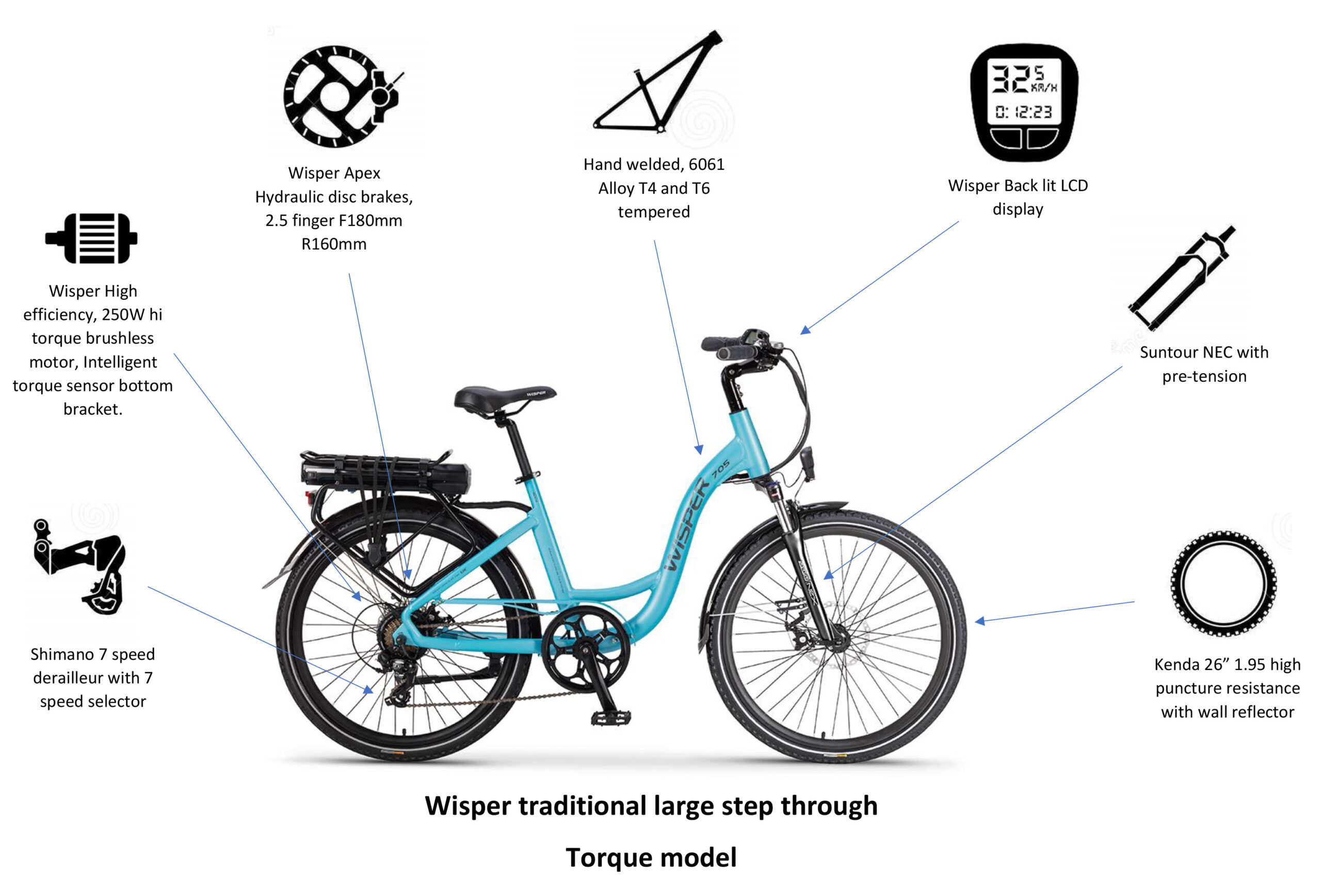 Please note the 24″ model does not have suspension forks.
*Finance subject to credit check
Full Throttle Range
Using your Wisper bike on throttle only will reduce your range by up to 30% and the TTP will not help increase range whilst you are using the throttle only. If your bike has been upgraded so it works on the throttle only, we still suggest pedalling when you are able to do so. Use the throttle only function when you need to rest or to help you pull away when setting off.
Controls
Wisper Back lit LCD display
Bicycle weight
375Wh: 22kg
575Wh: 23kg
700Wh: 23.5kg
Frame
Hand welded, 6061 Alloy T4 and T6 tempered
Frame size
Small 14.5″ 36.5cm
Sizing and Dimensions
Colour
Electric Blue or Burgundy
Forks
Lightweight alloy Wisper blade forks
Saddle
Wisper comfort
Kick stand
Black anodised alloy
Gears
SHIMANO 7 speed derailleur with 7 speed selector
Brakes
Hydraulic 180mm disc brake front and 160mm rear
Wheels
Alloy double walled 24" x 1.5"
Tyres
Kenda 24" 1.95 high puncture resistance with wall reflector
Mudguards
Black Full length, shatterproof
Lighting
Front: 15W LED super bright
Rear: 36V light, power from bike battery
Rear Rack
Wisper's unique rear battery rack, certified to 25kg
Max Weight Loading Including Luggage
21 Stone / 135kg